Here is my new bookstore mailing list schedule for 2011. On Tuesdays you will get news with an encouraging word and news of that weeks sales, each sale will last for 1 week. On Friday you will get one announcing that weeks freebie, yes I plan to have a freebie every week. But first let me tell you about my 2 newest books!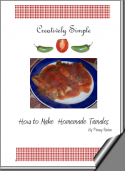 This week it will be Creatively Simple how to Make Jalapeño Poppers. This are great!! Now you can learn to make them ever bit as good as the ones at your favorite restaurant. And you can make them mild if you like, free Friday.
Creatively Simple – How to Make Homemade Jalapeño Poppers
Jalapeño poppers are a wonderful treat and a great snack. We make them often as an appetizer. You can easily use other peppers such as banana peppers if you want something not as hot.